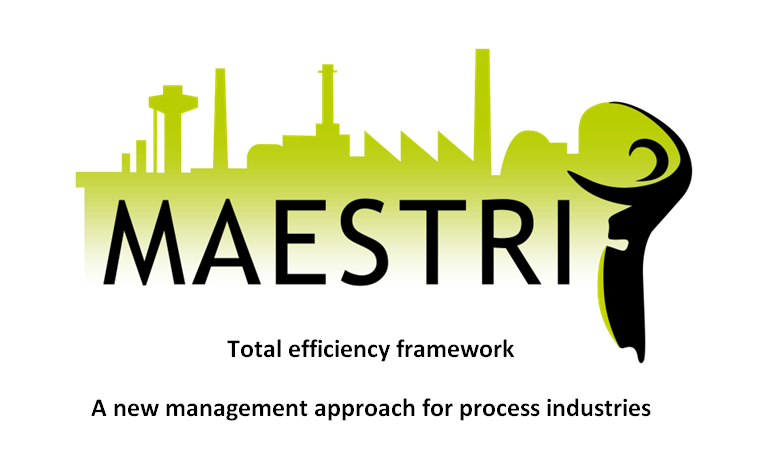 "Total Efficiency Manager 4.0" training is addressed to the industrial community and to all stakeholders wishing to apply MAESTRI managerial tools and methods to their professional contexts. The goal is to provide you with an integrated approach to Total Efficiency for process industries based on four pillars: IoT, Industrial Symbiosis, Eco-efficiency, Lean Management. At the end of the course you will acquire the necessary skills to implement Total Efficiency Framework within your own company.
The course is composed by 5 micro-training courses. Each micro-course is self-contained. At the end of every micro-course, interested participant can require a certificate of attendance. No enrolment is required. Interested users may participate simply clicking on the course link. To complete each course it is necessary to (1) visualise all training materials; (2) complete the quiz and (3) fill in information – optional – and submit.
The micro-courses that constitute the 'Total efficiency manager 4.0' training paths are:
C1 – Introduction to the MAESTRI Total Efficiency Approach – available here
C2 – Industrial applications of IoT in the MAESTRI Total Efficiency Framework – available here
C3 – Eco-efficiency procedures and methodologies – available here
C4 – Introduction to Industrial Symbiosis – available here
C5 – Management System: Lean and Eco-Lean applications within the Total Efficiency Framework – available here
The courses constitute an essential part of MAESTRI, a European H2020 project which aims at advancing the sustainability of European manufacturing and process industries by providing a flexible and scalable platform: the "Total Efficiency Framework". The application of this management tool in an industrial context will lead to several advantages for the companies wishing to improve their environmental and economic performances, and will also deliver exploitable results both in terms of technological outputs and structured solutions. MAESTRI as a project has a great potential because it focuses on European industries by making them more attentive to environmental issues, and creates a new management culture that will hopefully change the approach to sustainability with the help of new technical and organisational tools.